When there has been an incident in the workplace it is important that your staff record all the relevant facts. Whether it's a guest who has had a slip on the stairs, a member of the maintenance staff falling from a ladder, or a vehicle near-miss in the car park it is critical to report:
The location, time and date of the incident
Details of the affected person(s), whether staff or guest
Who witnessed the event, and who is reporting it
What was the context of the incident in terms of surroundings and conditions
What actually happened!
Whether the severity of the incident required that emergency services should attend
Any treatment or response administered on the scene
Whether any remedial action was required to amend company procedures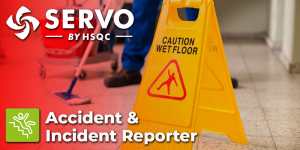 Ensure that your records are sufficiently precise and accurate by using the SERVO Incident Reporter. Whether medical, housekeeping, kitchen, gym or maintenance incidents, have your managers submit the reports online; they can even include photos to complete the record.
Get in touch now to book your walk-through demo of the SERVO Safety Management System. Our dedicated client support team will be happy to show you how straight forward it is to use: [email protected]
HSQC have over 40 years of experience as a leading international safety and quality management consultancy. Our team provide technical advice and laboratory and scientific support to businesses in the hospitality, food, leisure, tourism, and catering industries.